Who is online?
In total there is
1
user online :: 0 Registered, 0 Hidden and 1 Guest
None
Most users ever online was
13
on Wed Feb 17, 2016 7:47 am

Are you addicted to gambling? Well this is the perfect place for you.
Here you can gamble all you want... As long as you got the cash that is. How much does it cost ya say? Only 5,000 and that's a small price to pay for receiving a fortune. And even though we only allow you to gamble three times until we close in order to pay you lucky folks, you can still get your fill of gambling here.
Instructions:
You might be wondering. "How do I gamble? Where's the dice? Why does my crotch constantly itch?" Well we can answer those questions... Except the third one, you should probably see a doctor about that.
Firstly there should be a button to take you to where our dice is. This is the button.

Sure you have been here many times before but there may or may not be a part you didn't notice.

Now I know what you're thinking. "But I don't want to just gamble once. I want to win big so it's better if I gamble all three times." Don't worry. There's not one but
two
ways to do this. You can either type a "3" in the little white box to the right or you can click the plus sign three times. It should look like one of these in the end.


Be sure to only pick one of these methods and
not
both. If you do pick both we'll just take your money and ignore the post itself since we need the money to run our business.

And now you're done. Enjoy your winnings and we'll enjoy ours.
Rules:
You may only gamble THREE times until we close and open again.
You will get paid (Or lose cash) when the place closes. Have patience and wait for it. Trying to rush the staff will have consequences... You will be ignored. Do you like being ignored? Then don't rush the staff.
Don't put gum on the seats... Or tables... Or anywhere except the trash for that matter. Our cleaners work hard and it's extremely difficult to get that stuff out.
Every time you lose that money goes in a pot so don't worry. In the end the money doesn't go to waste. Lets just hope no one wins it. We need that money to run the place.
Don't complain about getting paid. Our staff try their best and there salary is... Well lets not go there. If you believe we have forgotten to pay you then PM me. The owner of Super Dice Roll Fun Time, Hawkeman92.
Don't try to cheat. You may ask yourself. "How do I cheat?" Well don't ask yourself that. If you do figure out a way to cheat tell me and then forget about it. We try to be as fair as possible and last week poor Steve got punched in the eye because someone thought he was cheating. We don't do that kind of thing and you shouldn't either.
Rewards/Chances:
= You lose. Sorry but that's just what happens sometimes. 11/20 (55%)
= You win 10,000. Congratulations you have won twice the amount you paid. You get a net gain of 5,000. Not the best you can do but better then losing. 1/4 (25%)
= Nice job. You won 20,000. Quite lucky indeed. Don't be reckless with it now. 1/10 (10%)

= Wow. You win ten times the amount you just payed. 50,000. It seems you have been blessed by the god off luck. 1/20 (5%)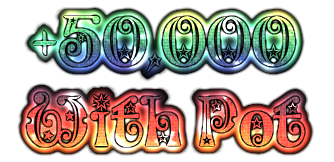 = YOU HIT THE JACKPOT!!! Not only you get 50,000 but you also get everything in the pot. Now get out before you bankrupt us. 1/40 (2.5%)
= Woah. You are so unlucky that your money just jumped out of your pocket and jumped right into ours. You are one of the most unluckiest people we have ever met. 1/50 (2%)
??? = We don't really know what this is. It came up and at first we thought it was a glitch in our system but we just couldn't fix it. There are rumors saying that a god put it there as the ultimate test of luck. Whatever it is we want it. Trade it in and get a special prize. No really. Our staff have tried and we can't get it. Seriously if you get it give it to us. 1/200 (0.5%)
LET'S GAMBLE!!!!!
Last edited by Hawkeman92 on Sun Oct 12, 2014 4:54 am; edited 2 times in total
Admin




Posts

: 64


Join date

: 2012-01-15


Age

: 26





Similar topics
---
Permissions in this forum:
You
cannot
reply to topics in this forum